Saturday December 10th
H o l i d a y   B r u n c h !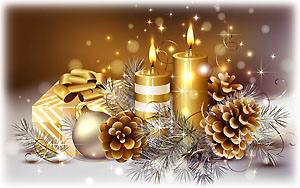 Come join us for our annual Holiday Brunch! The program will begin with a brief musical program by Song of the Pines, a Sweet Adelines chorus group from Prescott, who will sing a few selections in four part harmony.
This year we will honor our Star Awardees (50 year members) and announce the annual Mover & Shaker and Rookie of the Year award recipients.
This is also our annual Red Envelope event supporting AAUW programs at the national level. Red envelopes will be available for members who wish to make a tax deductible contribution.
Reservations are required. Please download the reservation form and mail it by November 27 with your check and meal selection to the address on the form.
When: 9 a.m. Saturday, December 10
Where: The Club at Prescott Lakes, 311 E. Smoke Tree Lane, Prescott.     map