General Meeting
Saturday, September 10th

A Factual Guide to the State Propositions  and Local Candidates
Welcome back from the summer break. Come join us to catch up with old friends and meet some new ones. Our September program will focus on the November election.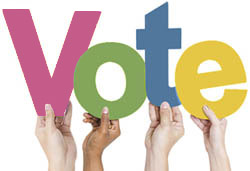 Stuart Goodman, of Goodman-Schwartz Public Affairs, will discuss the two Arizona ballot initiatives:  Fair Wages and Healthy Family Act (minimum wage) and Campaign to Legalize & Regulate Marijuana.
AAUW Voter Issues
Our branch public policy co-chair, Molly Divine, will present information on AAUW voter initiatives, the branch's public policy activities, and how members can make a difference both locally and nationally.  We will also introduce a non-partisan tool from AAUW to help determine where our local candidates stand on issues related to our organization's priorities.
Voter registration will be available.
It's Your Vote – Election November 8, 2016
Where: Yavapai College Community Room in Building 19
When: 9 a.m. Social time will begin at 9:00 a.m., followed by our general meeting announcements. The program begins at 10:00 a.m.