Holiday Brunch
Saturday, December 12 at 9 a.m.
Hotel St. Michael
Brunch, Mover & Shaker and Rookie Awards, and Red Envelope Event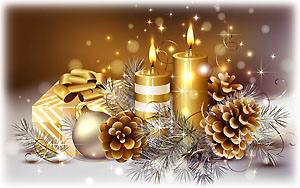 Join us for brunch at the historic Hotel St. Michael where we will celebrate the start of the holiday season and present our annual Mover & Shaker and Rookie Awards. The hotel is located in the heart of Arizona's Christmas City. Plenty of parking is available at the city garage with a pathway directly to the Banquet Hall. Just look for the teal AAUW signs at the alley entrance.
The cost is $25.00 per person. Please download and complete the reservation form. Mail the form with your check as directed in the form no later than November 30. Don't forget to specify your meal selection! (If you prefer a Gluten Free or Dairy Free meal, please write that on the form.)
Click here to download the reservation form.
Red Envelope Event
This is also our annual red envelope event which supports AAUW programs and scholarships at the national level. Red envelopes will be available for members to make contributions to the AAUW Funds.
Mover & Shaker and Rookie Awards
Each year AAUW Prescott honors two members who have made exemplary efforts in support and advancement of AAUW's mission. The awards are the Rookie Award and the Mover and Shaker Award.
See Nov-Dec issue of Thumb Sketch for more information about the menu options, awards and Red Envelope donations.
Driving Directions
The Hotel St. Michael is located at 205 W Gurley St., Prescott (corner of Gurley and Montezuma).
The City Garage entrance is at 135 S Granite St., Prescott.