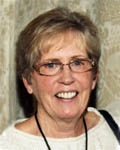 Leader: Sara DeRouchey
Contact: geocaching@aauwprescott.net
Did you love treasure hunts when you were small? Do you like solving puzzles? If so, you'll love geocaching! Geocaching is a real-world, outdoor treasure hunting game. We meet as one group (which can include spouses), and then divide up into small groups of three or four to hunt for geocaches.
We meet on the second Wednesday of the month, and the time we meet varies by season – usually early in the morning during the warmer months, and later in the morning or sometimes in the afternoon when the weather is cold. Before or after the hunt we often gather at a nearby restaurant or coffee house to refresh and compare notes. 
Geocaching is a worldwide sport, and there are thousands of geocaches in Arizona – including more than 
2,000 within 10 miles of Prescott. We are guided to these "treasures" not with a map, but with a GPS. But don't worry if you don't have a GPS enabled phone or stand-alone GPS device. When we divide up into smaller groups, we make sure that at least one person in each group has a GPS device to lead the group. As mentioned above, after each hunt there is an opportunity to socialize at a nearby coffee house or restaurant to compare notes and learn from each other, and we may even engage a little bragging about our prowess at discovering the hidden caches!
If you are interested in joining, contact Sara DeRouchey who is the group facilitator. Besides the geocaching hunts, we also meet occasionally to learn more about operating our GPS's/Smartphone Geocaching apps and to acquire more information about the various types of geocaches. This coming year we will also be  solving some puzzle caches together, learning more about using the Groundspeak phone app and geocachingtoolbox.com, and doing some multi-caches and letterbox hybrids too.  
Geocache Links: geocaching.com 2-minute video about geocaching 
Geocaching Group Schedule
Date / Time
Meeting Place
Social After Geocaching
Geocaches
Hunt Leader
RSVP to:
Jan 11 / 10:00am
Sara DeRouchey's home
NA
Planning Meeting.
If time we will search for GC78D9X P.O. Box - Prescott
Sara DeRouchey
Sara DeRouchey
Beginning in February, Geocaching Group will meet on the second Monday of the month.
Feb 12 / 10:00am
9:45 am by Taco Bell in Fry's Shopping Center on Willow Creek Rd. or 10:00 at Gas Station & Market at intersection of Williamson Valley Rd. and Outer Loop Rd.
Bonn-Fire in Chino Valley
Geocaches along Outer Loop Rd. between Williamson Valley Rd. and Hwy 89
GC7D130 Antelope Run
GC7E07Z Bro
GC7DZW3 It Can't Be There...Can It #1
GC7F7TY Outer Loop 1
GC7F7VE Outer Loop 2
GC7F7W2 Outer Loop 3
GC7F7WQ Outer Loop 4
GC7F7XA Outer Loop 5
GC7H3WV Outer Loop 6
GC16B7T Posted What Is This?
GC4A5XR Round about Ahead GC7C2BG View of Granite Mt.
Marge Rubin and Sara DeRouchey
Sara DeRouchey
Mar 12 / Time TBA
Tracy Smiles and Sara DeRouchey
Sara DeRouchey
April 9 / Time TBA
Marge Rubin & Sara Werner
Sara DeRouchey
May 14 / Time TBA
Jean Morin
Sara DeRouchey
June 11 / Time TBA
Julia Appletree
Sara DeRouchey
The Groundspeak Geocaching Logo is a registered trademark of Groundspeak.Inc. Used with permission