Upcoming Programs
November:
The Challenge of Aging with Class…..
Tips and Strategies
Aging is inevitable but we can make choices about our attitude and approach to aging. Join us for a unique opportunity to find out more about how to age gracefully. Our November 14, 2015 general meeting focuses on enhancing the aging experience.
We have a husband and wife team presenting:
Dr. Sam Downing, Prescott Area Leadership's Man of the Year in 2009 and current Director of Outpatient Palliative Care Services at YRMC Physician Care
Special Addition to the Program: Recognition of Newest 50-Year Members
9:00 Social Time, 9:30 Announcements, 10:00 Program
The meeting will be held at the Community Room at the Yavapai College Library.
---
December: Holiday Brunch
Join us Saturday, December 12, at 9:00 a.m. for breakfast at the historic Hotel St. Michael. The recipients of this year's Mover & Shaker and Rookie Awards (see article that follows for more information) will be presented. The hotel is located in the heart of Arizona's Christmas City. Plenty of parking is available at the city garage with a pathway directly to the Banquet Hall. Just look for the teal AAUW signs at the alley entrance.
Breakfast will be served, with two entrée choices:
French toast

: French toast served with


breakfast potatoes, bacon, and seasonal fruit
Breakfast Quiche

: Vegetable quiche served
with a corn muffin and seasonal fruit
(Both choices include coffee, tea and water.)
The cost is $25.00 per person. Please send your check made out to AAUW Prescott (with Holiday Brunch on the memo line) to Gayle Rumble (address in the directory) or to AAUW, P.O Box 10881, Prescott, AZ 86304. Please make sure to INCLUDE your entrée choice. You may also make a reservation and payment at the November 14, 2015, general meeting.
Click here for printable reservation form.
This is also our annual red envelope event which supports our National AAUW scholarships. Red envelopes will be available for members to make contributions to the AAUW Funds. Please make these donation checks payable to AAUW Funds. If you wish, you may specify on your check which of the five funds you wish to benefit: Legal Advocacy, Education, Advocacy, Research or Leadership. You may also make a general donation, and it will be distributed as needed. For more detailed information, see our National AAUW website http://www.aauw.org/contribute/
Mover & Shaker and Rookie Awards
Each year AAUW Prescott honors two members who have made exemplary efforts in support and advancement of the AAUW Mission. The awards are the Rookie Award (for a member of less than 3 years) and the Mover and Shaker Award (for a member for longer than 3 years). The nomination form contains criteria for the awards. A committee will use your nominations to determine the award recipients. Please give your thoughtful consideration and nominate fellow members. Forms must be received by November 16 for committee consideration. (Click here for more information and the Nomination Form)
---
President's Message
by Gail Shay
"Permanence, perseverance and persistence in spite of all obstacles, discouragements, and impossibilities: It is this that in all things distinguishes the strong soul from the weak." Thomas Carlyle
This quote so aptly describes our strong AAUW Prescott members and is the reason we managed to have such a good turnout for our recent general meeting against all odds. Despite the tragic fatal accident on route 89, forcing closure of the roads in both directions leading to the Phippen Museum where we held our program, so many of you patiently waited and tried various ways to gain access. Thanks to Jeanette Polvani's call to the police department, we were able to have an officer assigned to allow our members to arrive from the north side of town. So, hooray, for all of you who came!
The program was totally worth all our efforts to be there. It was a fascinating tale of another amazingly strong and talented woman, Mary Elizabeth Jane Colter. Yes, she was also a curmudgeon, but she managed to leave a wonderful legacy of southwestern architecture and design, much of it in Arizona.
Meanwhile, our members continue to work on the many projects we have set for ourselves over this year. We just received word that we were awarded a national grant for Tech Savvy, so we are committed to working on that joint project with Yavapai College (see article below). We will also be promoting our new Give Teachers a Hand initiative and the Legislative Day scheduled for February. You will be hearing more about all of these later this year, so stay tuned and enjoy the autumn weather.
Prescott AAUW Receives Tech Savvy Grant for 2016
The Prescott AAUW Branch was informed Oct. 14, 2015, that we are the recipient of an AAUW National Grant to offer a Tech Savvy Conference in the tri-city area. Tech Savvy is a daylong science, technology, engineering, and math (STEM) career conference designed to attract girls in sixth through ninth grade to these fields and to inform families about STEM education and careers. Our branch will be partnering with Yavapai College for this one-day event, and it will be held on the campus of Yavapai College.
There will be plenty of opportunities for our branch members to be involved in this awesome opportunity. The Community Action and Public Policy Committees will be working together to make this event happen. Members of the Tech Savvy Committee include: Debra White, Paula Fuhst, Elaine Lawson, Louise Dubel, Patti Allen-Lafleur and Stacey Hilton.
Visit these two AAUW links to learn more about Tech Savvy:
A Year of Growth for Tech Savvy
---
Public Policy
by Debra White
The Public Policy Committee met on October 6 with the topic for the meeting being Educational Funding. Our guest presenters were members of the Support Our Schools Committee, which is working to help pass the Bond and Override for Prescott Unified School District in the upcoming election. They presented facts about how the Bond would be used and why the Override is necessary. Committee members had an opportunity to ask questions and received information they could share with family, neighbors, and friends living in the Prescott Unified School District.
The Support Our Schools website is listed above for members who wish to look at additional information before the election.
The November meeting for Public Policy will be held on Nov. 3 at 1:00 p.m. at Prescott Public Library in the Elsea Room on the second floor. Billie Grobe, former head of Adult Probation with Yavapai County, will be our guest presenter. She heads a group in Prescott for reentry women who have been in prison. Billie will bring two additional guests, and the panel will address the issues women face and discuss support that is available in Yavapai County following release from prison. Women's issues related to prison and reentry is a topic of interest for AZ State AAUW Public Policy for 2015-2016. All branch members are always welcome to attend Public Policy Committee Meetings. Please view the information on Prescott's AAUW website for further information.
Save the Dates:
Sister-to-Sister luncheon, Thursday, February 11, 2016, in which branch members are paired with girls to encourage them to complete high school and continue beyond.
Mark your calendar for AZ AAUW Legislative Day, February 23, 2016. This is the day that AAUW members from around the state gather in Phoenix to learn and share about legislation and the legislative process.
---
Scholarship Update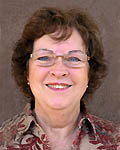 By Lynne Murphy
Look How Far We've Come!
There wasn't a person at the September general kick-off meeting who wasn't wishing they could spend a day at the Del E. Webb Child Development Center……just in bigger chairs! Vickey LaMotte, director of the center, arranged for us to tour the facilities, meet some of the staff, and see a few preschool students at work. We also got to enjoy juice boxes and cookies on the playground. We were completely wowed by the facility!
At the Holiday Brunch in December, we will have the annual "Red Envelope" collection for the national AAUW scholarships,
and on Saturday, April 1, 2016, we will sponsor a fundraiser for our Centennial Scholarship. We'll travel by luxurious bus to the Verde Valley campus to tour the vineyards, taste some wine, learn more about their unique viticulture degree program, and enjoy lunch. It will be a rare opportunity to have a fun day and bolster the Centennial Scholarship fund.
AAUW members are being challenged to raise $10,000 each year for the next five years so that the child care needs of Yavapai College students can be met, in part, through our Mary Alice Moulten Scholarship, plus another $10,000 for the Centennial (STEM – Science, Technology, Engineering and Math) Scholarship, which will be awarded to deserving female YC students. Anne Barton suggested that members forego a Starbucks beverage each week, thus saving around $104 a year, not to mention a lot of calories. This savings could go toward the scholarship fund! Or, you could drop loose change into a cute container and donate that too. Since the September meeting, we have collected a total of $4,455. Of that amount, $3,695 was for the Mary Alice Moulton Scholarship and $760 for the Centennial Scholarship. Look how far we've come!
---
Hospitality Reminder:
If you live in the South Prescott or
Williamson Valley-Southview areas, it's your turn to bring the treats to the November meeting.
Special Thanks

Thank you to Stephanie Brown, Dot Williamson, Suzanne Scudder, and Wendy Jones for the Very Excellent 2015-2016 AAUW Directory now featuring photos of members!
---
New Member Coffee
On Saturday, September 26, five new AAUW members and seven board members met at Marlene Walsh's home for an enjoyable morning of refreshments and informal social discussion. At this coffee, four of our long-term members joined us in welcoming our newest members. It was exciting to hear insights from these members, especially regarding their memories and involvement in not only supporting the need for Del E. Webb Family Enrichment Center, but seeing it through to the wonderful addition to our community it is today. Members shared their current involvement in Interest Groups or various committees. One or more of the board members, representing all of the many AAUW Interest Groups, gave the new members a nice overview of what is available for their participation. They also shared stories of the good fellowship of AAUW members.
It was a pleasure to spend time with the new members, learning more about them in turn. These gatherings are just one more opportunity to celebrate our new members and our very special branch of AAUW.
---
Better Know Your Leaders
Eileen Cotter, Happy Transplant
Eileen Cotter is originally from California, moving to Texas before arriving in Prescott 11 years ago. She has been a nurse all of her adult life. Eileen joined AAUW in 2012 and is involved in Great decisions, the singles group, and enjoys the travel group meetings when she can. Eileen volunteered as co-chair of Community Action this past summer. She is happy to get more involved with AAUW activities and believes strongly in our mission to open pathways to women who are seeking a higher education.
Elaine Lawson, California Transplant
Elaine came to Prescott to enjoy the relaxed atmosphere and friendly people in the Prescott area. She is a recent transplant from Southern California, where she grew up and was a member of the Laguna Beach (CA) branch of AAUW for many years. There, she managed the branch website, served as branch president and also president of the AAUW Laguna Beach Foundation board. Although her true passion was art, she opted for a career in the aerospace industry as an electronics engineer and manager of advanced technology programs at Raytheon Corporation. Elaine is currently on our web team and coordinates the Genealogy interest group. In her free time she enjoys oil painting and family history research.
---
New Newsletter Format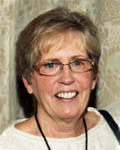 By Sara DeRouchey
Have you noticed that the latest Thumb Sketches are different?
First of all, the newsletter is easier to access, either directly from your email announcement or from the AAUW Prescott website. One click on any of the headlines in your email announcement will take you to that article of interest. From there you can easily scroll up and down to see the entire newsletter.
On the website, the current Thumb Sketch and three years of archived Thumb Sketches can be found in the dropdown menu under the heading Newsletters in the top menu. Click on the current edition of the newsletter or click on Newsletter Archives to see a clickable list of past newsletters.
The new format is brought to you by the combined efforts of the newly formed Communications Team – formerly the Newsletter Team and the Web Team. We are Patti Allen-LaFleur and Sara DeRouchey, co-chairs, and Melinda Anderson, Cindy Cassady, Elaine Lawson, Chris Maxwell, Janet Orr, and Edi Taylor-Richards. If you like the new look and accessibility of the Thumb Sketch, be sure to let us know!
New Interest Group on Current Events
By Christina Zepeda
On Monday, October 5, the new Current Events Discussion Group met for the first time. Each of us brought several topics
from the past 3 to 4 weeks, and we covered them all, with a few digressions. Our discussion was wide ranging, covering the multiple topics and related issues. We are looking forward to our next meeting, the first Monday in November, November 2, 2:30 to 4:30 p.m. at the Prescott Public Library, Bump Room. You are welcome to join us. Contact me at currentevents@aauwprescott.net
---
top of page
November-December 2015 Thumb Sketch Vol. 64 No. 6